8/11/2001 21:00 PDT - Added two box scans to the files page.
2/13/2001 1:53 PST - Added two more Nintendo Power scans to the files page.





About This Website
Welcome! I opened this website in January of 2001 as a way to collect all of the available information about this underappreciated game and house it in one place. I've designed it to be compatible with Netscape and IE versions 4 and above. If you would like to get in touch with me, do so.
About Solstice
One of the lesser-known classics of the NES era, Solstice was released in June of 1990, and it introduced many players to an unique and atmospheric mix of puzzle-solving and exploration, yo. Whoa, pardner, my editorial voice is all over the map. Let's cut to some screenshots while i find myself.
Are captions really necessary?
Not if they're going to suck
like this.
Morbius the Malevolent plans to sacrifice Princess Eleanor to the forces of darkness and thereby be granted world domination. To stop this, Shadax must negotiate the hundreds of chambers of Kastlerock, reassemble the shattered staff of Demnos, and confront Morbius on the eve of the winter solstice. That night is tonight, and Kastlerock awaits!
About The Creators
Tim Follin, who wrote the game's excellent soundtrack, has the greatest web presence of the Solstice team. In addition to his homepage, there are a number of pages devoted to his game music.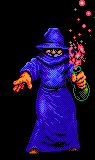 Mike Webb, the programmer behind Solstice, is also the cofounder and current chairman of Software Creations, Ltd. (Sources: 1 / 2)
Mark Wilson, Solstice's artist and designer, now works in Los Angeles at James Cameron's visual effects house Digital Domain.
Website copyright 2001-2003 john fitzgibbons
Solstice(TM) copyright 1989 Software Creations Ltd.